The summer season is finally here! Though it's relatively hot almost the whole year in the Philippines due to it being a tropical country, March and April are usually the hottest months of the year – sometimes even extending until May. While the scorching heat can be very uncomfortable, it cannot be denied that summer is still one of the most awaited times of the year for Filipinos, next to the Holiday season. It's that time of the year where families, barkadas and couples plan their trips to the beautiful beaches and resorts in the Philippines, and it's when people flaunt that perfectly fit summer body that they've been working on months prior to the summer season.
This 2021, summer time is a bit different than what it used to be. Though more and more people are getting used to the "new normal", Filipinos are still encouraged to avoid unnecessary travels and crowded places due to the pandemic. Therefore, it's understandable that we may not be able to spend summer outdoors at the beach the same way we used to. But that doesn't mean we can't find ways to make it fun, right?
TV has been one of the main sources of entertainment for Filipinos since the pandemic happened last year. Devant is committed to continuously help in making staying indoors more enjoyable by providing a wide selection of TVs with different features that would fit every Filipino household's entertainment needs and offering promos that would make every consumer's viewing experience even better.
This summer season, Devant is kick starting the hottest time of the year with its Summer Splash Sale promo. Customers will get a free Devant SB-50 2.0Ch Soundbar when they purchase any of the participating big screen TVs. Participating models include Digital LED TVs, Smart 4K TVs and Smart Quantum 4K TVs giving consumers more options to choose which type of TV would best fit their viewing habits.
Participating models are as follows: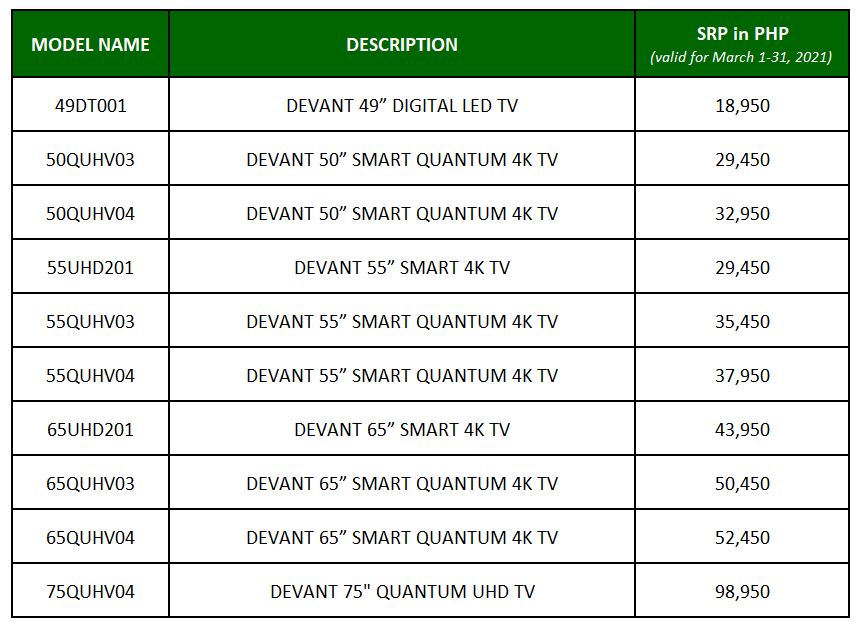 Promo is available in leading appliance stores nationwide and in the official flagship store of Devant in Lazada and Shopee from March 1 to 31, 2021. Get yours now!